Reception of The girl and the wolf:
"Not only confronting, but also a beautiful work of art" (public press: De Gelderlander)"

A powerful statement of universal application" (Jack Boas, writer about Dutch Jews under de Nazis)

"Images, still and moving, subdued and expressive."
(public press: Zinweb)

"Interesting and moving" (Helmuth Braun, Head of Exhibitions Jewish Museum Berlin)

"Impressive paintings." (Inge Jaehner, former director Felix-Nussbaum-Haus)

"Powerful and exceptional." (Marcia Reines Josephy,
former director/curator of the LA Museum of the Holocaust)

"Impressive and moving." (public press Algemeen dagblad)meen Dagblad)
Reception of Ten composer portaits in word and image:
"Clearly written biographies which are excellent introductions of the work of the composers" (professional journal: Mens & Melodie)

"Roelofs uses an accessible writing style. In a nutshell she gives an excellent impression of the life of ten composers. Meanwhile she also describes the connections and similarities between the composers.

The painted portraits show a convincing likeness with the represented persons.

(professional journals: De Muze van het Museumplein, Summer issue 2001; Oorsprong, November 2001)

"A beautiful book. Very characteristic portraits. Life and work of the composers are written in an accessible way." (Dutch radio station for classical music: Radio 4, December 2000)

"Roelofs describes life and work of the ten composers in a pleasant style. Because of the painted portraits the composers become more alive." (Public press: Dagblad van Almere, March 22 2001)
PAINTINGS: MUSICIANS
Conform her interest in music and composers Saar Roelofs also paints musicians. Her most recent work (2015) consist of a series of violinists.
Former series were exhibited i.a. in Music Center Vredenburg Utrecht and Gallery Amsterdam.
"With whirling brushstroke and strong diagonals Saar Roelofs creates a maximum of movement
without losing sight of the characteristic posture of the musician."
(Concert agenda Music center TivoliVredenburg)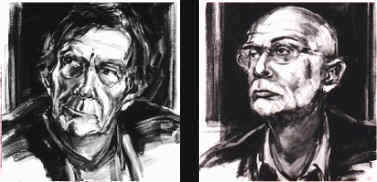 PAINTINGS : COMPOSER PORTRAITS
Enclosed in the vook: Ten composer portaits in word and image Exhibitions in music center Exposities o.m. in Vredenburg/Tivoli Utrecht, Stedelijk Museum Amsterdam, and Museum Van Bommel Van Dam Venlo.
"Beautiful portraits which Saar Roelofs created with profound understanding and convincing brushstrokes."


Public press:

De Gelderlander.
"Remarkable portraits.

Professional Music journal: Mens & Melodie



"The portraits of the seven composers who I knew personally impress me because of their psychological accuracy." Ton Hartsuiker, former managing director of the Cinservatory Amsterdam.